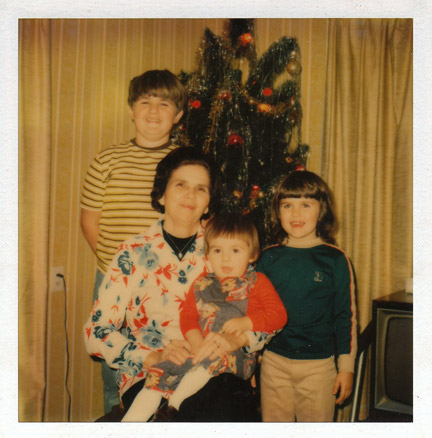 Pladd Dot Toys is owned and operated by me - Chris Mitchell (I'm the little guy sitting in the Hee Haw Overalls in the picture to the left).
My love and fascination with toys goes back further than I can remember. I remember as far back as 1978 when I was four years old and begging my brother Mark (older boy in the photo) not to pull my Stretch Armstrong (Stretch Monster) apart too far and tear it apart.
I think he finally did. Damn older brothers….
But the real passion for toys came in 1980 when I got my first Star Wars toy. I was only three when Star Wars came out in 1977 and I was too young to appreciate it then. But in 1980 (at age six), you can bet I was on fire for Star Wars. I didn't know anything about the movie because you couldn't really get movies on VHS easily back then.
It didn't matter though. I'm sure I saw the commercial and when I got the toy, that was all the inspiration I needed to create all the scripts in my head. I would act out Star Wars scenarios for years after that—flying Xwings, Tie Fighters, and having epic lightsaber duels. What can I say? I was a Jedi like every other 6 year old in the US.
After Return of the Jedi came out and the Star Wars toy collecting craze died down, I got into GI Joe. I probably collected the figures until I was about 14 and another passion took over my life—music.
I got my degree in music and since college I've been fortunate to make music my life. But something else happened in college too—the re-release of Star Wars figures. When I saw the first one on the side of a Froot Loops box, I was floored. I think I ate something like 8 boxes of Froot Loops to get Han Solo in the Stormtrooper disguise. I always wanted that figure as a kid and the collecting bug hit me again. But this time it was different—I had a job and the internet was just around the corner (which meant you could search for stuff online).
After college I started a successful music business called Pladd Dot Music. My collection was growing rapidly to the point where I was just putting stuff in boxes. It came to a point where I started feeling guilty about having so many toys. I didn't grow up with means and I knew there were a lot of kids out there that had it way worse than I did. It became clear to me that if I were going to continue to collect toys, it would have to be for a good cause.
That's when Pladd Dot Toys was born.
Pladd Dot Toys solo mission is to provide toys to kids at Christmas time. We donate to our local Sherriff's Department every year in Bulloch County. So far we've donated about $17,000 in toys to kids in need.
I still collect but now I do it with a purpose. If I like it, odds are someone else will too. So when I sell a toy, a kid gets a toy. Actually, each toy we sell on this site (or on eBay), usually provides about three to ten toys for children at Christmas.
It's that simple. That's what I do.
And I feel much better knowing that we're helping children in need.
So if you're shopping on this site or my eBay store—thank you! Your purchase goes further than you'll ever know!
Pladd Dot Toys is Located at:

38 North Main Street
Statesboro, GA 30458
(912)764-3230
Pladd Dot Toys is 100% focused on providing toys for children in need. Feel free to give us a call or contact us via this website!